We are a product of the company we keep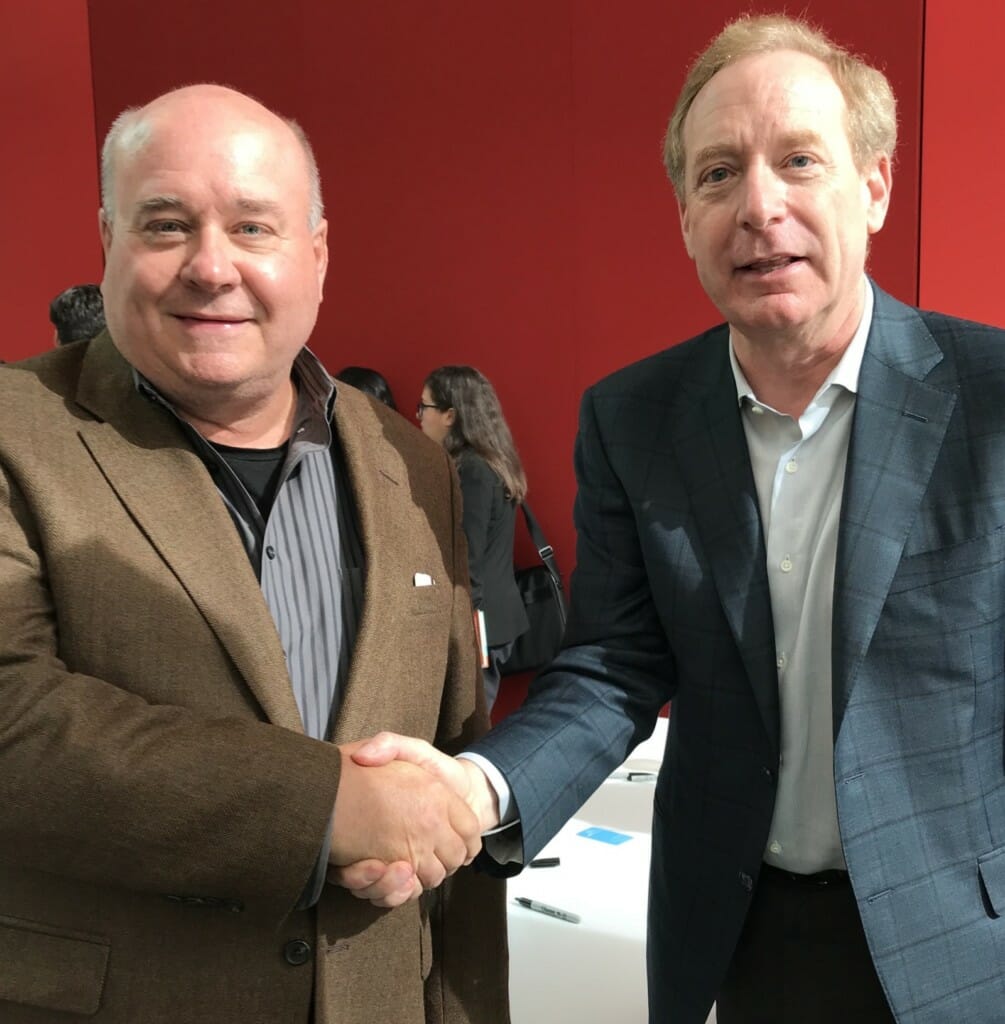 John and Brad Smith, President of Microsoft, met in a forum discussing his recent book, "Tools and Weapons- the promise and the peril of the digital age." During the session, John asked Brad the question: "What do you look for when filling a key executive role for Microsoft?" (The video, beginning at 31 min. into the presentation, begs the question) In brief, he said he looks for execs that are: 1) Broad-minded- not just technical. They need to have a background in Liberal Arts. Man-computer interface is key. 2) Curiosity- and a desire to keep learning. Bill Gates, Steve Ballmer, Satya Nadella- are all extremely curios... and always learning. 3) Ability to navigate in a new world- Internally and Externally. This generation has heightened expectations about their employers, they have a choice. He closed by saying, we can't shoot down a half-baked idea. Most of our half-baked ideas get killed or ignored. A lot of our best ideas started out and half-baked. We need to finish "baking" our ideas.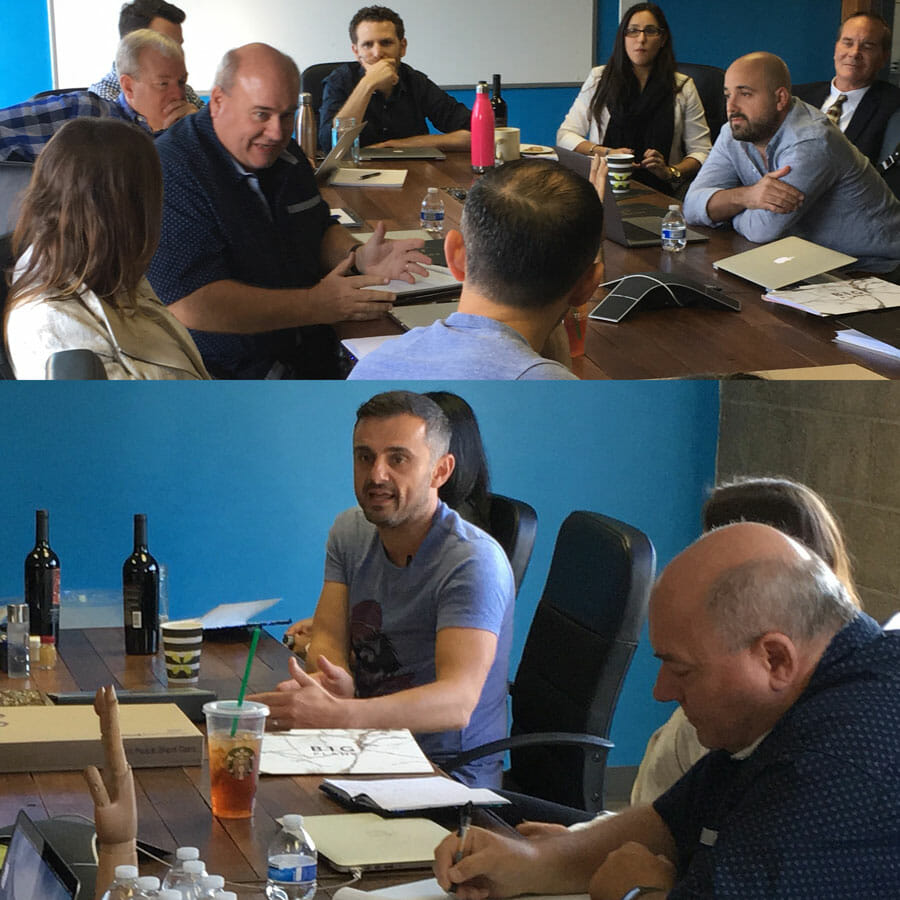 Gary Vaynerchuk
In a discovery meeting with Gary Vaynerchuk, John is pitching a strategy for a start-up company. The effort would require staffing key personnel and build a team of influencers for products in the anti-aging industry. John is an active member of the Caltech Entrepreneurs Forum, at Caltech in Pasadena, CA. He is studying the work of Dr. Louis Ignarro, UCLA, who was awarded the Nobel Prize in 1998, for his work in amino-acids restoring unrestricted blood flow and of the effects of increasing oxygenation of hemoglobin. Basically, the more oxygen one gets to the cells, promotes health and prolongs life.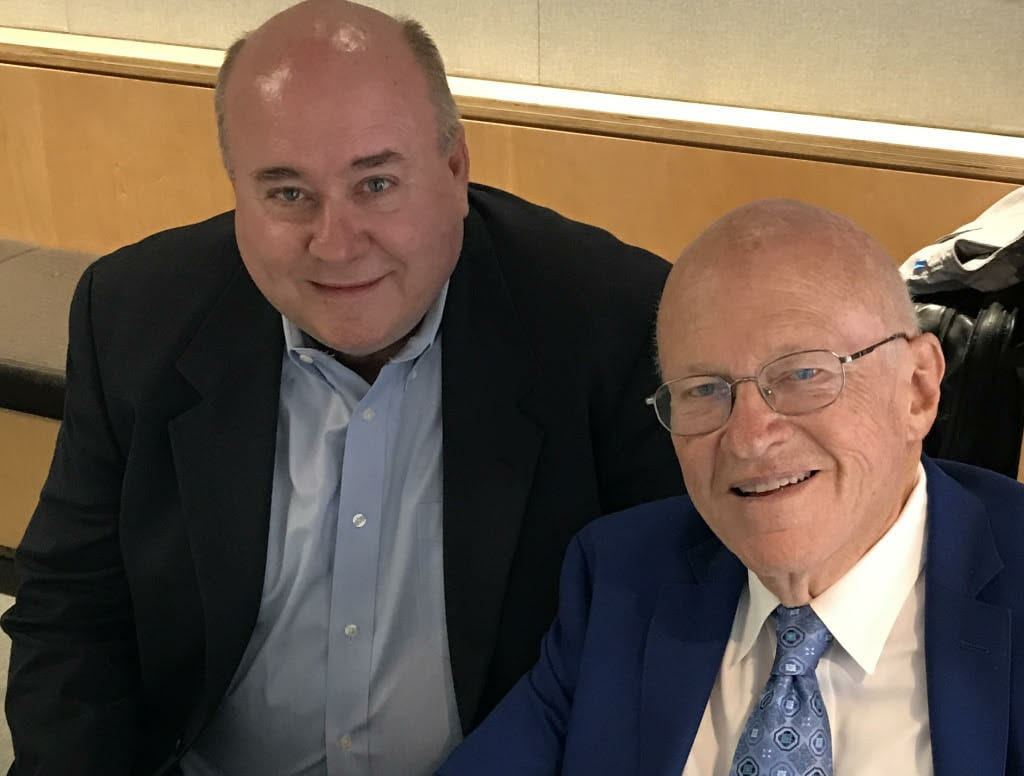 Ken Blanchard
John's time with Ken Blanchard focused on Ken's book, "The One Minute Mentor." Ken has sold more than 100 million books in his career, primarily due to the "One Minute" suite of publications. I was acquainted with Ken's former partner, Dr. Paul Hersey, was certified in Situational Leadership, and taught this model in MBA courses. SL has been presented to more than 13 million managers worldwide. I still think this is the best management training paradigm widely available today for emerging leaders. Situational Leadership II is an upgrade from the original study.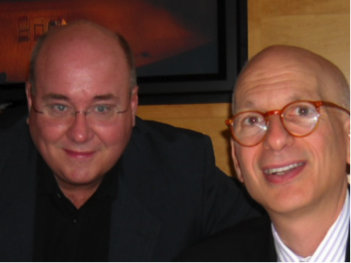 Seth Godin
Marketing leader and NY Times best-selling author of "Linchpin" and eighteen other publications. His writings have amassed a fortune of $500 million. His advice to business people is simple: "Make yourself indispensable." He has made "lizard brain" a household term and bring substance into every conversation. I read his blog daily and highly recommend his work. His work What To Do When It's Your Turn (and it's always your turn) is a must read. The successful executive is always working to make themselves indispensable.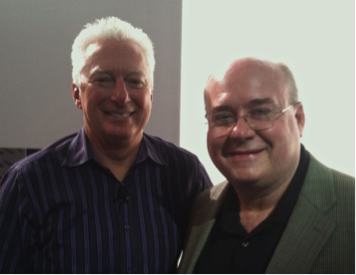 A. G. Lafley
CEO of Proctor & Gamble, increased the stock value of P&G by $100 billion- His advice during our session: "Strengthen your core business through a winning strategy" P&G earns $85 billion in yearly revenue and employs 126,000 people worldwide. A.G. led a product turn-around, the Olay line, responsible for $9 billion in revenue. A.G. says, "The customer is boss." Lafley is credited with making P&G a more consumer-driven and externally focused company—and with shaping a far more diverse, open, curious and courageous, connected and collaborative culture in which "innovation is everyone's job." During our meeting, he gave my son Hans excellent career advice that landed him in sales with a durable medical equipment company.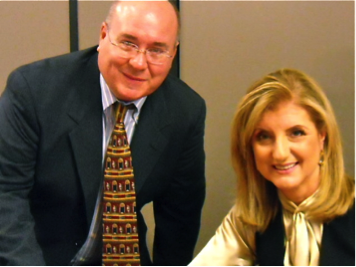 Arianna Huffington
Arianna used emerging technology to build a "Top Ten" visited website, and sells the Huff Post for $300 million to AOL two weeks after our meeting. She states, "Fearlessness is like a muscle. I know from my own life that the more I exercise it the more natural it becomes to not let my fears run me." Ariana is a profound communicator and a role model for thought leaders and relationship builders. We discussed the issues leading to the shrinking of the middle class. "It's no longer an exaggeration to say that middle-class Americans are an endangered species." "We think, mistakenly, that success is the result of the amount of time we put in at work, instead of the quality of time we put in."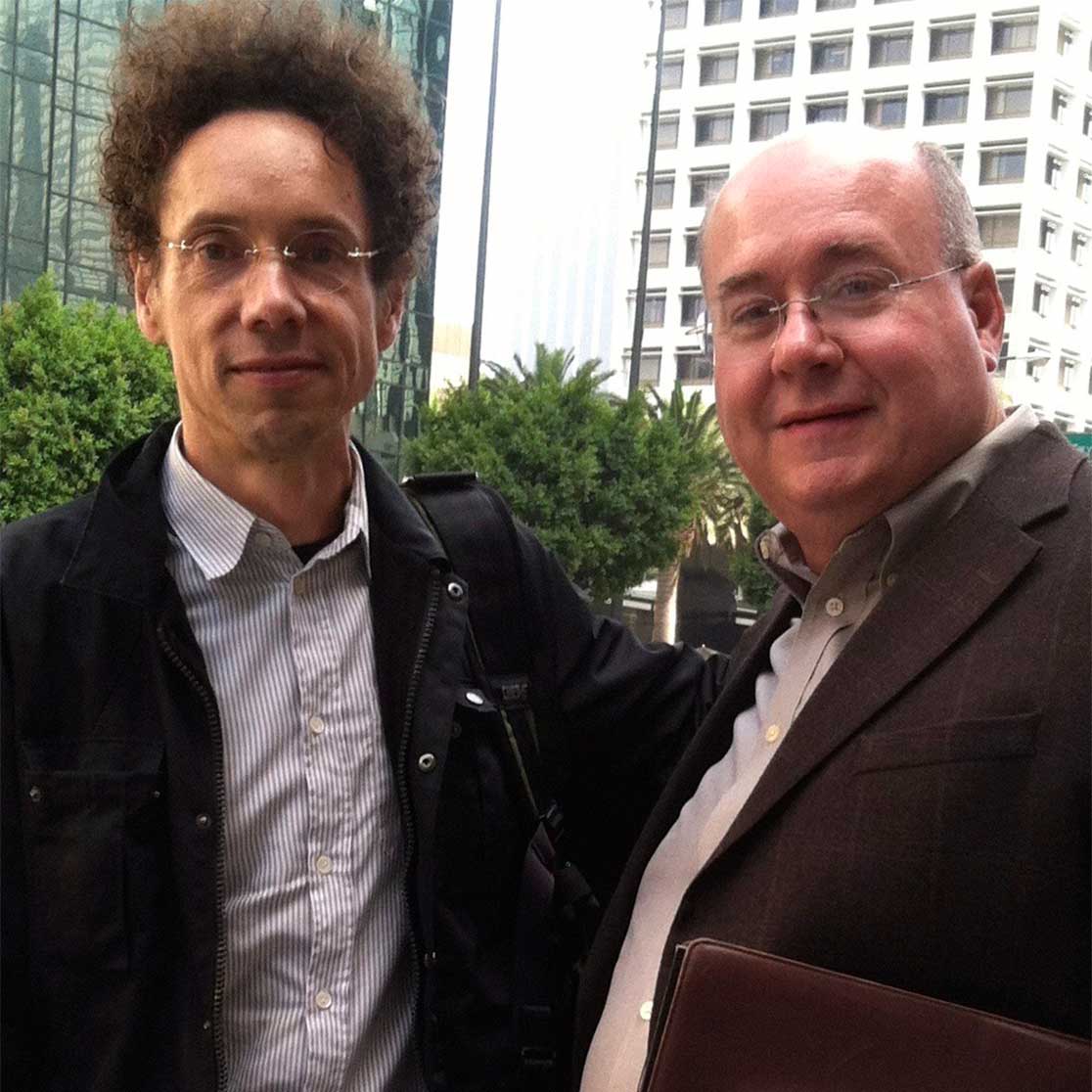 Malcolm Gladwell
has written five books that were on the NY Times best-seller list resulting in Gladwell's books and articles often deal with the unexpected implications of research in the social sciences and make frequent and extended use of academic work, particularly in the areas of sociology, psychology, and social psychology. He is credited for popularizing the term, "tipping point" which has become iconic in business communication. We are about reaching the tipping point. As an author, he has earned more than $30 million. Our conversation focused on how the underdog can reach unprecedented success through determination.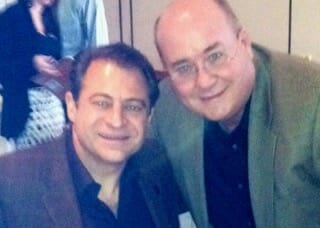 Peter Diamandis
After graduating from MIT and then Harvard Medical School, Peter earned a master's degree in Aeronautical Science from MIT and founded five companies. He is president of the X Prize which was created to fund and operate a $10 million incentive competition intended to inspire a new generation of private passenger-carrying spaceships and solving complex problems with technology. We met to discuss the process of problem solving which is, more often than not, driven by non-experts in the field.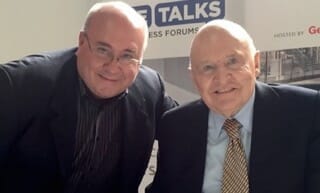 Jack Welch
has earned recognition as the CEO of General Electric and streamlining operations management of one of the world's most respected companies. During his tenure at GE, the company's value rose 4,000%. During our time together I asked him, "What do you look for when you are hiring an exec vice-president or divisional president?" His answer was unexpected, "I look for transparency and generosity…" His entire answer may be viewed on YouTube. My contributions begin at 43:50 and he speaks for about three minutes.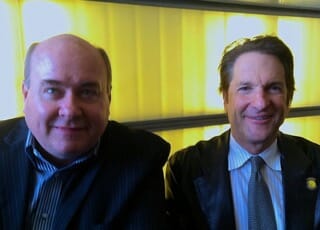 Peter Guber
is a consummate businessman whose films have earned over $3 billion worldwide and 50 Academy Award nominations.Guber is also a co-owner of the Golden State Warriors, the Los Angeles Dodgers, the soccer team, Los Angeles FC, and eSports organization Team Liquid. Guber is also Chairman of Mandalay Entertainment and Dick Clark Productions. Our discussions were focused on "telling the story." Facts and figures don't sell. Story sells. Fact and figures support story. "I'm in the business of creating compelling stories. As a filmmaker, I need to understand how stories touch audiences—why one story is an instantly appealing box office success while another fails miserably to connect." How we connect with our clients and candidates is the core competence of our business.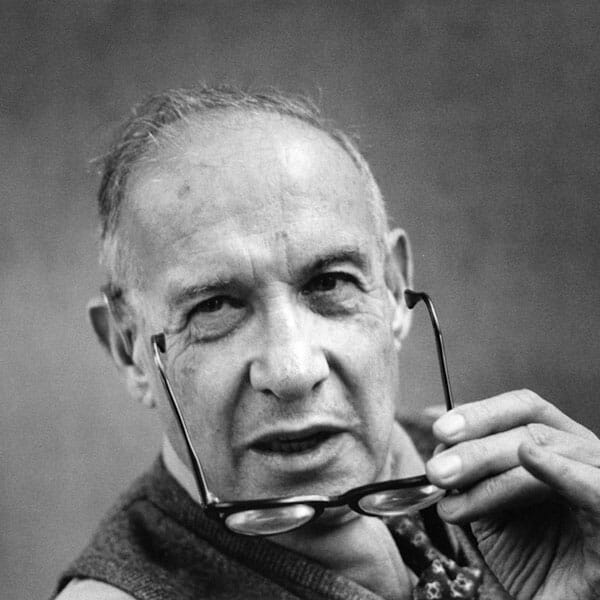 Peter F. Drucker
I had the uncommon privilege to have studied under Peter for three classes at the Peter F. Drucker Graduate Management Center, at the Claremont Graduate University. Unknown to me was his relationship with my family when he was in Germany. He and my great uncle Hajo Holborn were friends in Heidelberg prior to Hajo's appointment to Yale. Peter's books still have every bit of relevance today as the day they were written. My favorites are "The Effective Executive" and "Innovation and Entrepreneurship." I use the Drucker Five Questions in all my work. The Drucker Difference was that Peter taught us how to think.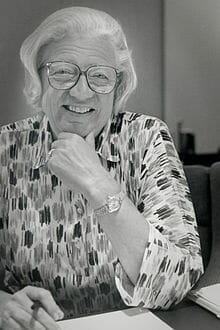 Hanna Holborn Gray, PhD
Hanna is my cousin, once removed, and a world class thought leader. She is the most distinguished member of the family. She is a historian of Renaissance and Reformation political thought and Professor of History Emerita at the University of Chicago. She served as Acting President of Yale University in 1977–78 and was then appointed President of the University of Chicago, where she served for fifteen years. At both schools, she was the first woman to hold their highest executive office and has also served as a director, board member or trustee of many institutions, including the Harvard Corporation, the Yale Corporation, the Smithsonian Institution, JP Morgan Chase, the Andrew W. Mellon Foundation, the Marlboro School of Music, the Council on Foreign Relations, the Concord Coalition, the Mayo Clinic, the Brookings Institution, and Bryn Mawr College. She served as the Chairwoman of the Board of the Howard Hughes Medical Institute until 2010. She received the Medal of Liberty awarded in 1986 from Ronald Reagan and the Presidential Medal of Freedom from George H.W. Bush in 1990